20 February 2008
I know I'm well behind the curve, but I only started read
xkcd ("a webcomic of romance, sarcasm, math and language") a few months ago and I just had to share this one as it is so spot on: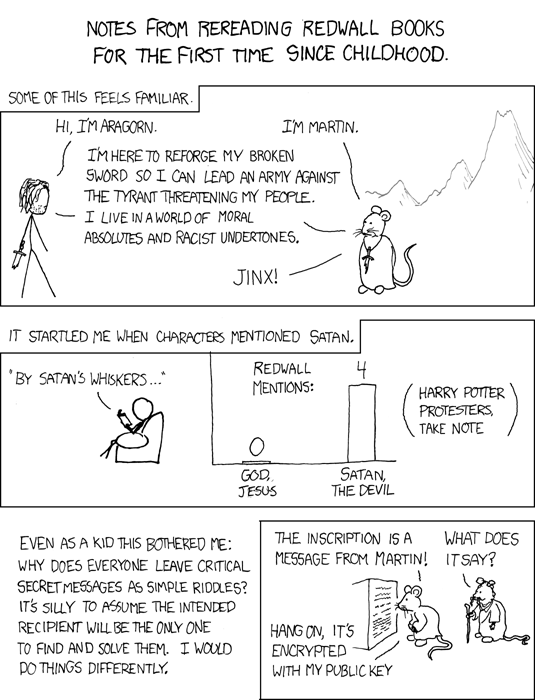 (Just click to enlarge)

11 February 2008
It looks like Random House is publishing two new editions of
Anne of Green Gables
to commemorate the 200th anniversary of its publication.
The Modern Library Classics edition
has an introduction by
Jack Zipes
and
the New Canadian Library edition
has an afterword by Margaret Atwood. Hmmm. The Modern Library Classics edition has a nicer cover (and is cheaper), but ...
Margaret Atwood
!
Squee?!
I
do
need to replace my copies -- they are fairly done to death -- but I'd liked to wait a bit to see when the other volumes are coming out (and what they'll look like and who will be contributing to them) before I settle on one or the other.
Of course, what I really want is
Anne of Windy Poplars
on CD. Is that too much to ask? So disappointed
Anne of Windy Poplars
is not in audio (CD) format – it's one of my favorite Anne books and I'd been looking forward to listening to it. (Yes, all of the Anne books are favorites, but some more so than other.
Rainbow Valley
, for instance, is not a book I'd fight anyone for).
I started listening to the Anne books a few years ago after I'd falling in love with Shelly Frasier while listening to her read
Temple Grandin's
truly magnificent and heartbreaking
Animals in Translation
. After I ran out of Grandin, I scrambled around in the library catalog looking for another Frasier fix and I found
Anne of Green Gables
. (Hmm. My childhood addiction linked with an adult fixation – maybe not a healthy choice, in hindsight). For several glorious weeks, I happily listened to Frasier as she regaled me with Anne's adventures … and then all my joy was crushed utterly when I discovered Frasier had not recorded any other Anne books.
No.
I was going to have to switch to Barbara Caruso.
At the time, I could not make the switch. Who was this Barbara Caruso and how could she ever be my Anne? My Marilla? My Mrs. Lind? Also, it did not help that Caruso was linked (erroneously, it turned out) in my mind with a much hated audio abridgment of
The Birth of Venus
.
These last few months, what with reading the Betsy-Tacy children's novels and Kaoru Mori's Emma manga, I've been yearning a bit for Anne. Finally, last week, I got over myself and interlibrary loaned
Anne of the Island
read by Barbara Caruso. It was good. Very good. Good enough that I went looking for
Anne of Windy Poplars
.
Which isn't available on CD. Nor is
Anne of Ingleside.
My heart is embittered by these gaps in chronology, but what can I do?
Anne's House of Dreams
,
Rainbow Valley
, and
Rilla of Ingleside
will have to suffice until some publisher comes to their senses.
Grr.
It's amusing (but not surprising) that, when I was a child, I loved the early books most and, now that I am a stout matron, I love the later books. Oh, I still appreciate the first books and read them with real pleasure, but they do not move me as much. Anne's birch maidens are just pretty nonsense now and dandelion wine doesn't sound so mysteriously delicious. No, it is adult Anne's domestic joys and sorrows which hold me.
And the food. Always the food.
Quite often, when I read the Anne books, I think how much fun it would be to make a dinner of foods pulled from the books (I think about this when I read Laura Ingalls Wilder's books, too). Most people might not think of them as "foodie" books, but they seem so to me.
But then, I never thought of
The Pickwick Papers
as a foodie book:
"What are you reading?"
"Pickwick."
"That's a book that always makes me hungry," said Phil. "There's so much good eating in it. The characters seem always to be reveling on ham and eggs and milk punch. I generally go on a cupboard rummage after reading Pickwick."

Anne of the Island, Chapter XX
Happily, I am not the only one who wants to eat what their literary heroine ate as there are a couple cookbooks devoted to Anne culinaria. We have a copy of Kate Macdonald's
The Anne of Green Gables Cookbook
in our children's collection and it is, quite literally, rather sweet (two-thirds of the recipes being for desserts and tea things). The recipes are almost all accompanied be a relevant quote taken from
Anne of Green Gables
or
Anne of Avonlea
and are, being meant for child chefs, pretty easy to make. I must say that everything sounds good and I look forward to making Anne's Liniment Cake (minus the liniment).
"Oh, Marilla," sobbed Anne, without looking up, "I'm disgraced forever. I shall never be able to live this down. It will get out--things always do get out in Avonlea. Diana will ask me how my cake turned out and I shall have to tell her the truth. I shall always be pointed at as the girl who flavored a cake with anodyne liniment. Gil--the boys in school will never get over laughing at it. Oh, Marilla, if you have a spark of Christian pity don't tell me that I must go down and wash the dishes after this. I'll wash them when the minister and his wife are gone, but I cannot ever look Mrs. Allan in the face again. Perhaps she'll think I tried to poison her. Mrs. Lynde says she knows an orphan girl who tried to poison her benefactor. But the liniment isn't poisonous. It's meant to be taken internally--although not in cakes. Won't you tell Mrs. Allan so, Marilla?"

Anne of Green Gables, Chapter XXI
Great. Now I want cake!